I've seen this at a bunch of places, too, most recently at Professing Mama. The idea is that this site will analyze your blog to tell you your personality type (it seems to be straightforward Myers-Briggs). My result?
ISTP - The Mechanics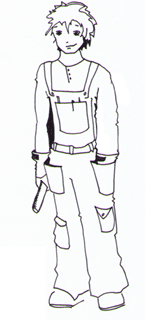 The independent and problem-solving type. They are especially attuned to the demands of the moment are masters of responding to challenges that arise spontaneously. They generally prefer to think things out for themselves and often avoid inter-personal conflicts.

The Mechanics enjoy working together with other independent and highly skilled people and often like seek fun and action both in their work and personal life. They enjoy adventure and risk such as in driving race cars or working as policemen and firefighters.

(There's a nifty little chart showing which bits of my brain I use, too, but I can't get it to copy/paste here.)
There are elements of this that are absolutely correct - independent, preferring to think things out for themselves, avoiding interpersonal conflicts - and elements that are less so - adventure and risk (firefighter?? ha!).
But mostly I'm posting this because whenever I take a Myers-Briggs, I always turn out ISTJ. That last J is "judging," and I'm usually about as far on the judging spectrum as you can be. Which is why I find it interesting that this blog doesn't reflect that. Perhaps here I try harder to be balanced and non-judgmental* than I do in the privacy of my own head? It's interesting to consider the difference between my own uncensored thoughts and what I say when I know I have an audience.
*Except, of course, about Chronicle First Person columns.